Millennium Park is one of Chicago's most iconic attractions — and it's also one of its most accessible. The downtown green space was specifically designed to be inclusive and accessible to all patrons, regardless of mobility or disability. Learn more about the accessible features available throughout Millennium Park, from getting to the park to experiencing everything it has to offer.
Getting to Millennium Park
Taking the bus: Chicago's public transportation system offers several ways to get to Millennium Park. If you'd like to take the bus, you can use several Chicago Transit Authority (CTA) bus lines: No. 3, 4, 6, 26, 60, 124, 143, 147, 151, 157, 850, 851, 855, and J14 have stops around Millennium Park. 
All of Chicago's CTA bus routes use accessible buses for riders with disabilities. Lifts and ramps on all buses are available for use upon request. See bus schedules and routes and accessibility FAQs.
Taking the train: There are two accessible CTA trains stops located less than one half mile from Millennium Park: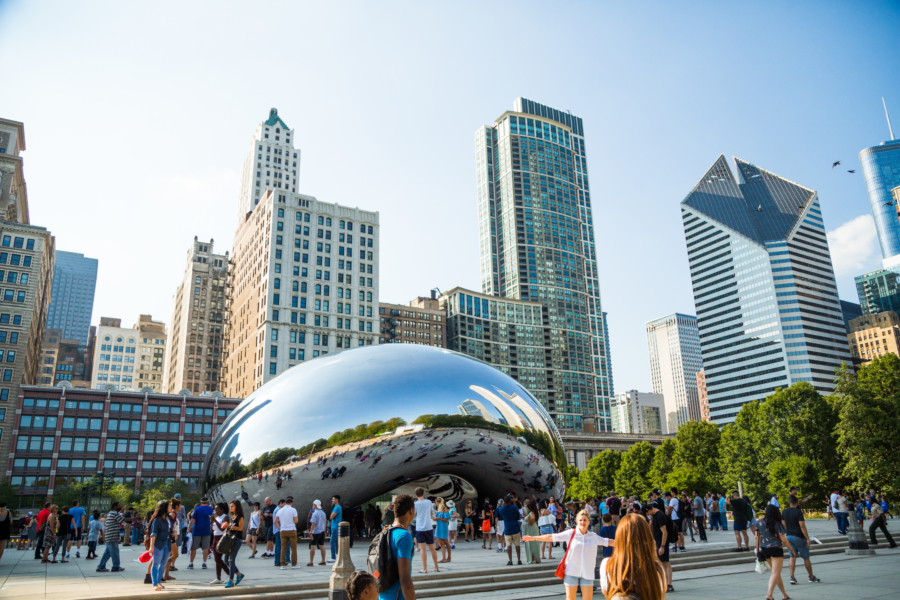 All CTA trains have accessible features, including locations inside cars where a wheelchair can be secured and ramps that can be lowered upon request. Check CTA System Status before you go for information about events (including service changes and elevator notices) that may affect your trip. See train schedules and routes and accessibility FAQs.
Parking: There is accessible parking available in the underground Millennium Garages – Grant Park North, Grant Park South, Millennium Park, and Millennium Lakeside. Spaces are limited. Visit Millennium Garages to purchase parking online before your visit.
Getting dropped off/entering the park: All entrances to Millennium Park are accessible. The west walkway at 201 E. Randolph St. offers easy access to the Patron Services Center and the Welcome Center, where you can find assistive listening devices, courtesy wheelchair rentals, helpful staff, and more. For events at Pritzker Pavilion, the 238 E. Randolph St. drop off point is nearest to a security checkpoint and entry to the seating bowl and Great Lawn.
Experiencing Millennium Park
Accessibility amenities
The following amenities and features are available for guests to use:
Complimentary wheelchairs are available while visiting Millennium Park and during events from the Welcome Center (201 E. Randolph St.) or Patron Services Center (west walkway of the Jay Pritzker Pavilion) on a first come, first served basis. They can be conveniently returned to any usher or security guard by the end of the event or before park closure. 

American Sign Language (ASL) interpreters are available at all Department of Cultural Affairs and Special Events (DCASE) programs in Millennium Park. You can

request an ASL interpreter

via email.

Assistive listening devices are available at the Patron Services Center (west walkway of the Jay Pritzker Pavilion).

All movie screenings include captions during the Millennium Park Summer Film Series.

Text scripts of audio tours are available at the Welcome Center (201 E. Randolph St.) for those with low or no hearing.

Large print copies of program books are available at the Patron Services Center (west walkway of the Jay Pritzker Pavilion).
Crown Fountain
The interactive Crown Fountain was designed without edges or deep water areas, so people with wheelchairs and mobility devices can fully participate in the experience.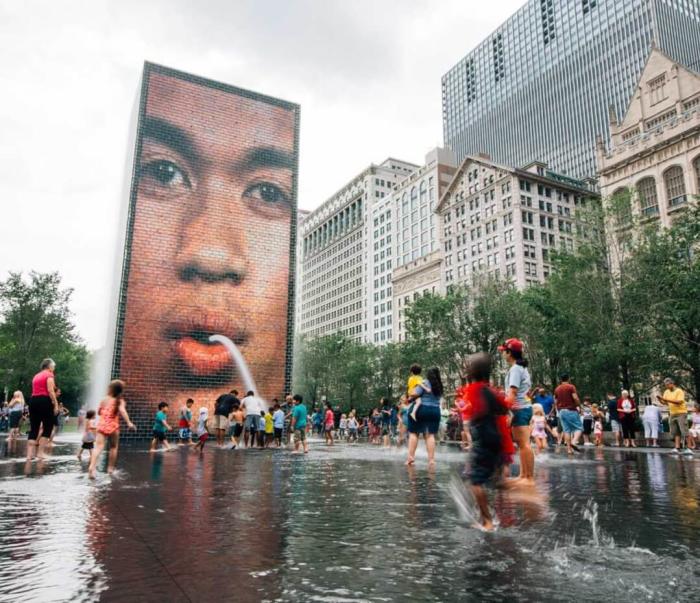 Pritzker Pavilion
The iconic Pritzker Pavilion hosts a variety of events throughout the year, including free movie screenings, music festivals, and scenic evening concerts. Security gates and seating open 90 minutes before the event start time. The distance from the security checkpoints to the seating bowl ranges from 395 to 575 feet.
The space is divided into two main seating areas: the Seating Bowl and the Great Lawn. There is wheelchair seating available throughout the Seating Bowl. Certain aisle seats feature movable armrests to allow for easy movement in and out of the seat for guests using a wheelchair, walker, or cane. Wheelchair and companion seating is available around the perimeter of the seating bowl (one companion per guest). 
ASL interpretation is available for Jay Pritzker Pavilion concerts. While the city tries to provide an interpreter for all events, please email DCASE to request an ASL interpreter at least 72 hours before the start of the show. Seats near the ASL interpreter are located on the east end of the Seating Bowl (audience right). 
If you need a seat near the stage because of low vision and/or needing to see the ASL interpreter/captions, please see a staff member at the Patron Services Center.
The grass on the Great Lawn meets ADA Accessibility Guidelines (short cut with firm and stable soil foundation) allowing for easier access. Wheelchairs and mobility devices are allowed on the lawn, but factors such as rain and mud can potentially make access more difficult. There is no riser seating on the lawn.
If you need help finding a seat, stop by the Patron Services Center on the west walkway of the Jay Pritzker Pavilion or ask one of the ushers in light blue shirts stationed around the seating area. Please note that staff members are not available to push wheelchairs.
Lurie Garden
These serene gardens are an excellent spot to step away from the crowds and noise of the park for guests with sensory needs. No loud music playing or music is allowed in the gardens, though some performances or events may be partially heard from there.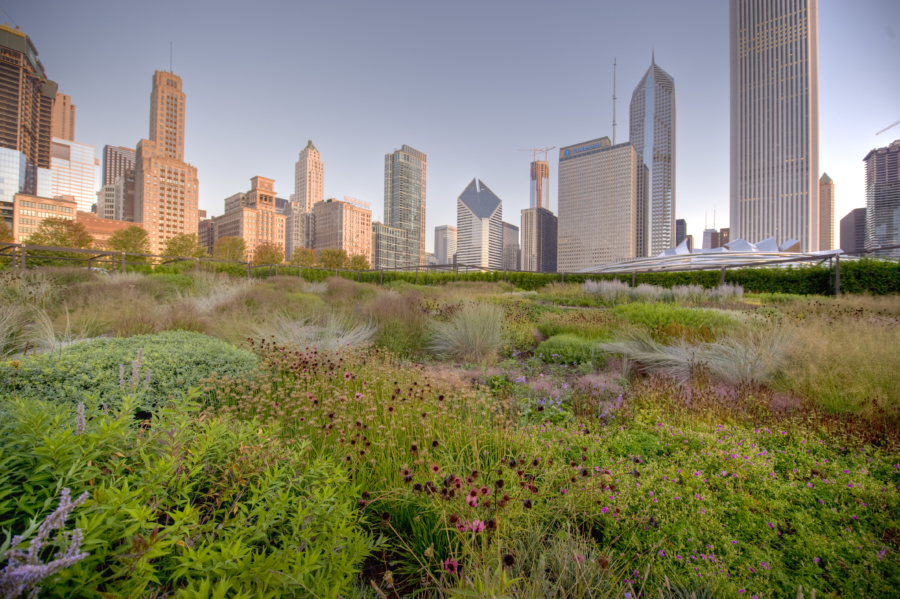 Restrooms
Wheelchair accessible restrooms are located:
On the east and west side of the Jay Pritzker Pavilion, including a single-stall accessible restroom on the east side.

In the McCormick Tribune Plaza near the Park Grill on Michigan Avenue.
Maggie Daley Park
Getting to and around Maggie Daley Park

: The BP Pedestrian Bridge that connects Millennium Park to Maggie Daley Park has a gentler slope than is required by the ADA, making it more accessible for people using wheelchairs or other mobility devices.

All park entrances and walkways are paved and wheelchair/stroller friendly. There is designated accessible parking available on Randolph Street to the north of the park. Parking garages with street level elevator access are also available.

The Play Garden

:

There are soft surface bases and play elements in the Play Garden that meet or exceed ADA standards.

Skating Ribbon

:

In the winter, guests can access a skate assist sled designed for skaters with physical disabilities and their companion skater.

The Fieldhouse

: The Fieldhouse entrances, hallways, and bathrooms are designed to be easily accessible for people with wheelchairs or mobility limitations.
Other accessible features at Millennium Park:
Service animals are allowed in the park.

Picnic tables have wheelchair space.

Holes in tree gates are too small to snag a white cane.

All vending locations have accessible concession windows.
Learn more about the Chicago Park District's accessibility policies. If you require accommodations in order to fully experience a DCASE event at Millennium Park, please send your requests via email at least 72 hours before the event.
Attractions near Millennium Park Campus
Millennium Park is so much more than just a park. The campus is also home to iconic museums and cultural attractions that offer a variety of accessibility resources and accommodations.