One of Chicago's hippest areas is also overflowing with beer options. This stretch of Milwaukee — which runs through Wicker Park and Logan Square — is home to music venues, nightlife, boutiques, trendy restaurants, and lots of cool craft breweries that embrace the eclectic vibe of the neighborhood.
Stop 1: Piece Brewery & Pizzeria
First, a long-time favorite. Piece Brewery & Pizzeria, which claims the title of most award-winning brewpub in Chicago, has been making New Haven-style pizza since they opened in 2001. They've also been brewing lots of beer — everything from German-style Kolsch to barley wine to American IPAs. 1927 W. North Ave.
Stop 2: Revolution Brewing Brewpub
The largest independent brewery in the state, Revolution Brewing's Logan Square brewpub is a popular stand-by on the Milwaukee Corridor nightlife circuit. Grab a spot at the bar, where you can try one-off brews that aren't available anywhere else. Oh, and the foods great too. 2323 N. Milwaukee Ave.
Stop 3: Bungalow by Middle Brow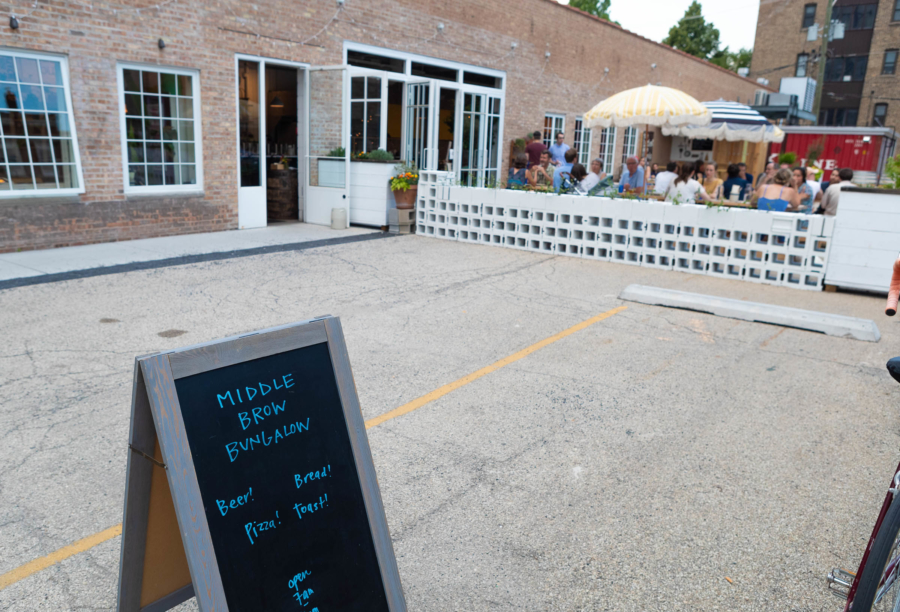 This funky space matches the funky brews. A few blocks off Milwaukee, Middlebrow's brew pub is open for breakfast, lunch, and dinner. Stop by in the morning for a brewers' breakfast — fancy toast, coffee, and (of course) beer — or the rest of the day for thin-crust pizzas. The beer menu is focused on fermentation and experimenting with yeast, with hop-forward, dark, sour, and funky styles. 2840 W. Armitage Ave.
Stop 4: The Radler
Step inside a lively European beer hall at The Radler. Their "haus drafts" include lots of German-style brews, like a traditional helles, dunkel, kolsch, and more. Make sure to order the giant pretzel (served with malt better) for the full experience. 2375 N. Milwaukee Ave.
Stop 5: Hopewell Brewing Company
The taproom at Hopewell Brewing is bright, modern, and open, which happens to perfectly describe their beers too. This small brewery is always trying something new, so expect some classics and some experimental brews. They brew small-batch beers every season, including many that you can only taste on their taproom. 2760 N. Milwaukee Ave.