Craft beer lovers flock to Chicago to get a taste of our dynamic brewing scene. A brewery tour can take you behind the scenes of Chicago's coolest craft beer makers, where you can learn about the process, chat with the brewers, and sample the goods. We've rounded up just a few of the cool brewery tours and guided beer experiences in Chicago.
Craft brewery tours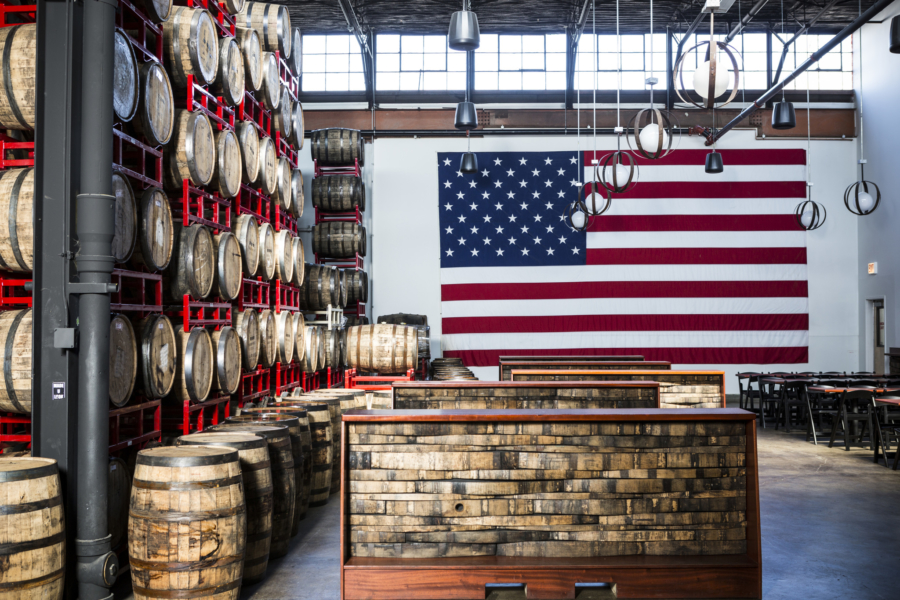 Goose Island
Goose Island is one of the biggest names in beer, and it all started right here in Chicago. Visit their original production brewery in the West Loop for a small-group, in-depth tour. You can book a tour Thursday and Friday from 2 – 8 p.m., Saturday from 12 – 7 p.m., and Sunday from 12 – 4 p.m. The one-hour tour costs $12 and includes a custom pint glass. Reservations are recommended. 1800 W. Fulton St.
Revolution Brewery
Head to Revolution Brewery's Kedzie Avenue facility to tour their production brewery, where they make their beer and fill kegs and cans for distribution. Get a behind the scenes look at the largest craft brewery in the state on this 30 minute tour. Sip a fresh Revolution beer, sample pilot batches in the Innovation Tasting Station, and score a free souvenir koozie. Tours take place on Wednesdays and Thursdays at 6 p.m., Fridays at 6 p.m. and 7 p.m., and every hour on the hour on Saturdays from 3 – 6 p.m. and Sundays from 2 – 4 p.m. 3340 N. Kedzie Ave. 
Lagunitas Brewing Company
Tasting tours are available "every freakin' day" at the massive Lagunitas brewery and taproom. Tours depart at 1 p.m. and 3 p.m. on Monday and Tuesday, and 1 p.m., 3 p.m., and 5 p.m. the rest of the week. After your tour, stop by the spacious taproom for live music, munchies, and more beer. 1843 S. Washtenaw Ave.
Half Acre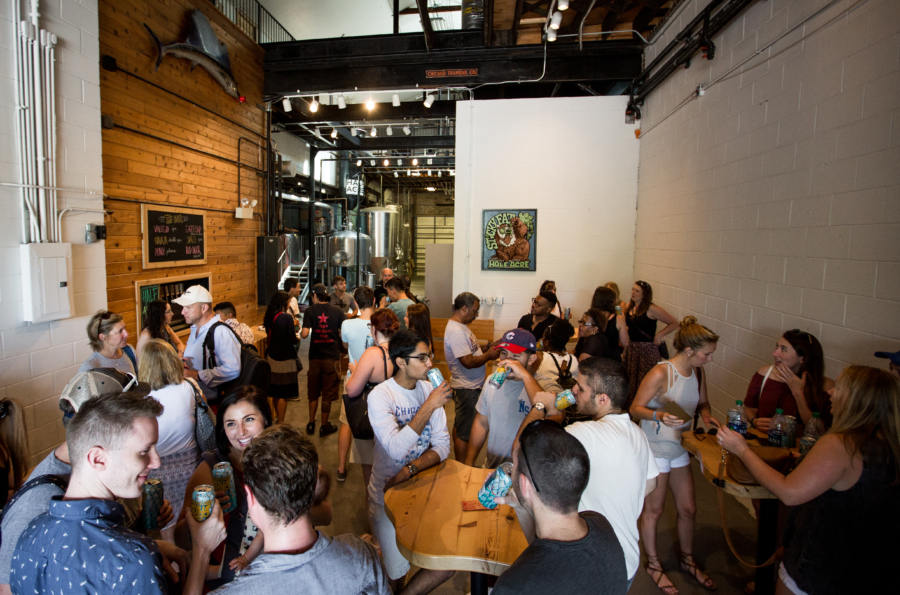 Half Acre has two Chicago breweries and they both offer tours. Their original Lincoln Avenue location hosts two-hour tours at 11 a.m. every Saturday, except major holidays. The cost is $10 in cash, which includes three samples and a branded pint glass. It's the same deal at their Balmoral location, but tours take place every Sunday. 4257 N. Lincoln Ave. and 2050 W. Balmoral Ave.
On Tour Brewing Company
Get a tour of On Tour, the modern West Loop brewery known for their Grateful Dead-themed beers. You can join a tour, led by the head brewer or one of his assistant brewers, the first and third Saturday of every month at 1 p.m. Tickets are $15 and include three tastings and a souvenir glass. Advanced reservations are required, check the schedule for upcoming tour dates. 1725 W. Hubbard St.
Hopewell Brewing Co.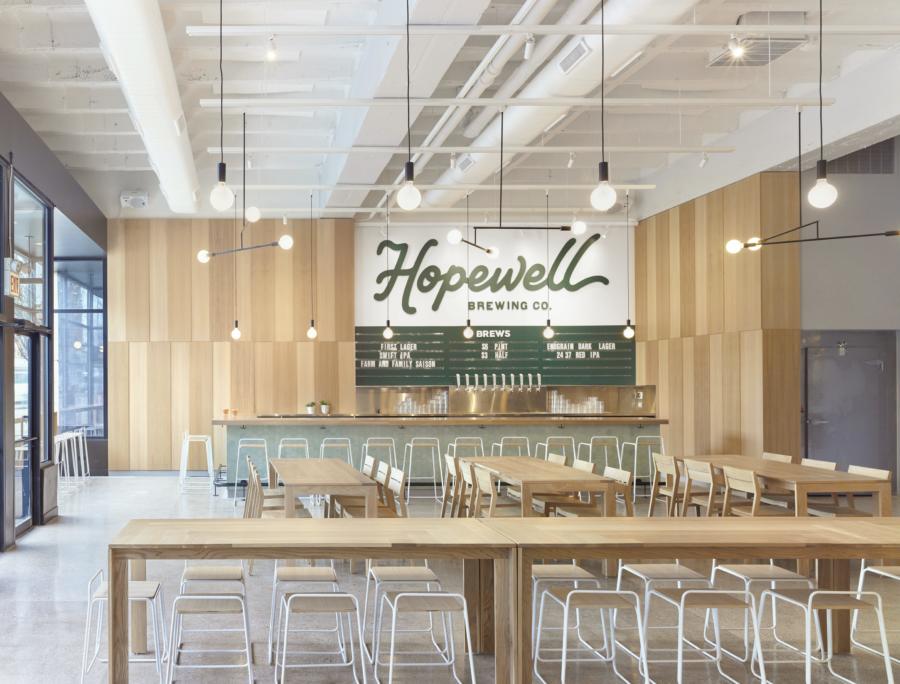 Hopewell Brewing holds tours of their Logan Square brewery every Saturday at 5 p.m. Space is limited, and tours are capped at 20 people, so make sure to get there early. The tour costs $10, lasts about 45 minutes, and includes a tasting of two beers. Afterward, grab a spot in their bright, minimalist taproom to try more of the goods.  2760 N. Milwaukee Ave.
Dovetail Brewery
Visit Dovetail Brewery on Malt Row to try European-style brews and tour their unique facility. Tours are held every Saturday at 11 a.m. and take about 90 minutes. They cost $15 and delve into their old-world brewing process — participate in a hop rubbing and a malt tasting, see 108-year-old equipment from the oldest brewery in the world, and sample almost a liter of beer. 1800 W. Belle Plaine Ave.
Begyle Brewing
Begyle Brewing tours take place each Saturday at noon. Learn about the brewery's beginnings, learn where the name comes from (and how to pronounce it), and more insights into the brewing process. The tour lasts 90 minutes and includes three pours and a signature glass. Make sure to arrive a little early and get your tickets ahead of time. 1800 W. Cuyler Ave. 
Lake Effect Brewing Company
Want to see how a small local brewery operates? Then join Lake Effect Brewing for a Saturday tour, which includes an inside look at their working brewery, bottling area, and barrel room. The free, one-hour tours take place at 2 p.m., 3:30 p.m., and 5 p.m. After the tour, check out their shop for the latest bottles and cans. 4727 W. Montrose Ave.
Greenstar Brewing
Greenstar Brewing, the first certified organic brewery in Illinois, offers tours every Saturday at 1 p.m. Tours are free the first Saturday of every month and $10 the rest of the time. Led by Uncommon Ground brewmaster and beer ambassador, the brewery tours includes a pint of beer and glass to take home. 3800 N. Clark St.
Chicago beer tours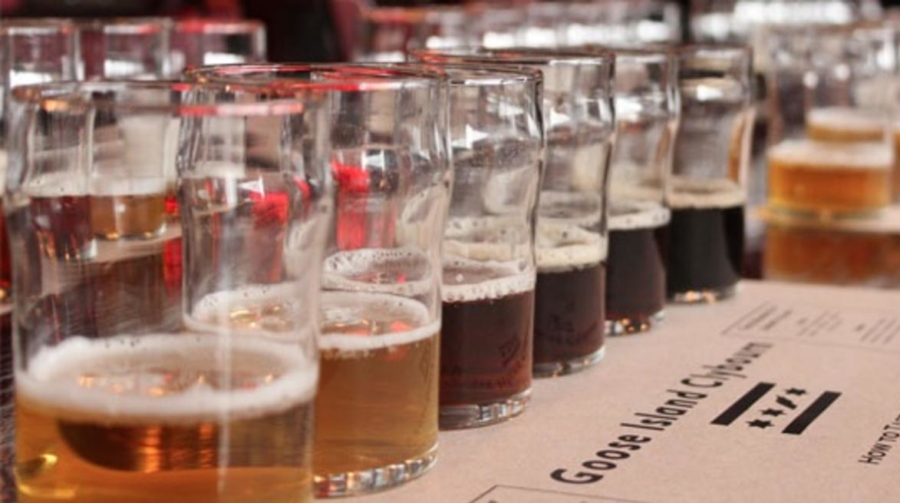 History on Tap
History on Tap tours will take you on a walk through Chicago's fascinating beer history. These neighborhood-based tours include themes like Old Town Taverns, Pints & the Past on Devon Avenue, and Cubs & Pubs: Wrigleyville Taverns, to name a few. Check their website for tour details.
The Chicago Beer Experience
The Chicago Beer Experience helps you get to know the city through its brewing history. Choose from three tours that each explore a different brewing hot spot: Bacon & Brews Beer Tour in Lakeview & Lincoln Park, Sins & Suds Beer Tour in the Loop & South Loop, and Pioneers & Pints in Bucktown & Wicker Park. Enjoy plenty of samples, interesting insights from your guide, and lots of good times.
The Barrel Run bus tour
The Barrel Run is a whole new way to explore Chicago's brewing scene. Board a public tours on the Barrel Bus and head out to three unique local breweries for tastes and tours. The tours are $75 a person and include transportation, guided tours, and 45 – 55 ounces of samples.
Craft brew cruises
A boat cruise on Lake Michigan is always a good time. A boat cruise that's all about craft beers? Even better. Several cruise companies offer special, seasonal cruises in collaboration with local breweries, so you can sip the best local brews while admiring the city skyline. Explore your boat cruise options and check with them for options and availability.
Self-guided craft brewery itineraries
Explore Chicago's craft beer scene on your own, one neighborhood at a time. We've created itineraries for the city's hottest brewing areas, from an industrial corridor turned "Malt Row" to the bustling heart of the city.