Experience the magic of the holiday season with your favorite holiday theatre classics, concerts, and more! Live theatre is making its return to Chicago and Hot Tix is now offering half-price tickets to several shows. Check out ChicagoPlays.com to find a full list of performances happening this month and beyond.
Love Actually? The Unauthorized Musical Parody

Musical
Right Angle Entertainment at Apollo Theater Chicago
Now playing – Jan. 2, 2022
Love Actually? The Unauthorized Musical Parody is a hilarious musical that follows nine quirky, questionable couples looking for love across the pond, and even 16 years after the movie premiere, we still ask ourselves these questions every Christmas: Is love falling for your secretary when you are Prime Minster? Falling for your secretary when you are married to Emma Thompson? Falling for the maid after your wife cheats on you? Falling for the wife of your best friend and showing up with poster boards? Whether you love Love Actually or love to hate Love Actually or have never seen Love Actually, you will actually love this musical! Check for half-price tickets on Hot Tix!
The Snow Queen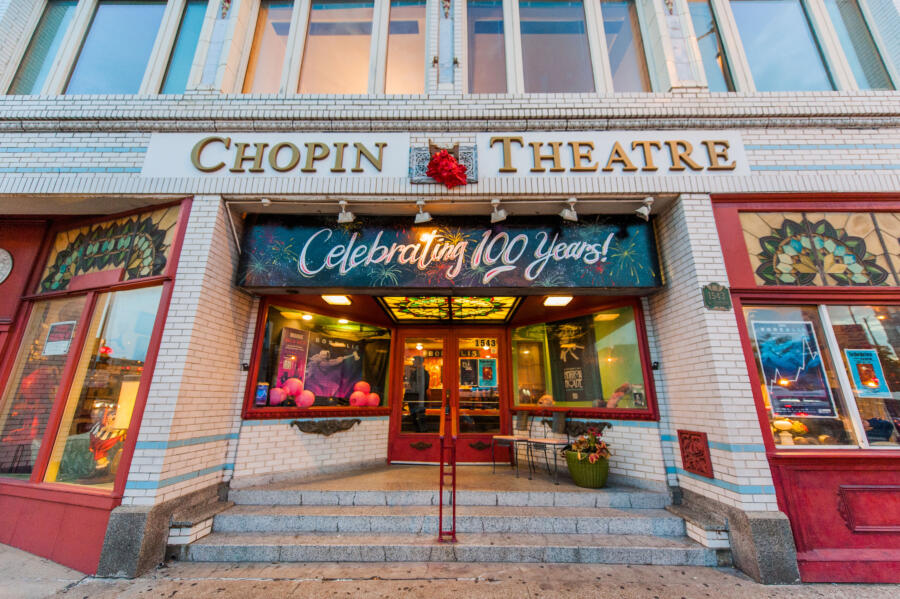 Drama
The House Theatre at Chopin Theatre
Nov. 12, 2021 – Jan. 2, 2022
The House introduces a new wintertime tradition with a reimagination of Hans Christian Anderson's beloved fable. Lanise Antoine Shelley's new adaptation focuses on the Snow Queen, her seasonal relationships with the earth, and the power she is learning to wield. When she shares her magical mirror with cousins Kai and Quin, her world is thrown into chaos, triggering a race against time to undo the ravaging of the earth. In this heartfelt adventure, the Snow Queen must confront mankind's heartache and undo the pain that she herself has woven, in a story infused with The House's hallmarks of magic, puppetry, and music. The Snow Queen is a tale of redemption and hope — and ultimately — a celebration of all seasons. Check for half-price tickets on Hot Tix!
Eb & Belle
Drama
Theatre Above The Law at The Jarvis Square Theater
Now playing – Dec. 19, 2021
Theatre Above the Law premieres a unique spin on a classic Christmas tale. Eb & Belle tells the story of Ebenezer Scrooge and his first love Belle, before he became the curmudgeon we recognize today. Check for half-price tickets on Hot Tix!
It's A Wonderful Life: Live in Chicago!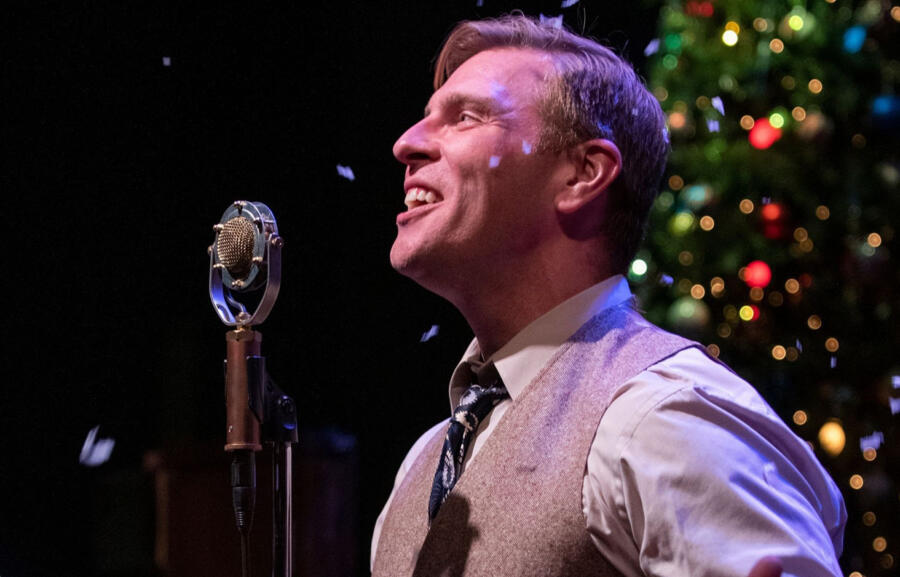 Radio play
American Blues Theater at Victory Gardens Theater
Nov. 26 – Dec. 31, 2021
Filled with original music and classic holiday carols, this warm tale "is the don't-miss show this holiday season!" (Chicago Tribune) For over 20 years, American Blues has treated audiences to a live retelling of the Frank Capra classic in a 1940s radio broadcast tradition, making It's a Wonderful Life: Live in Chicago! the second longest-running holiday play in Chicago! Check for half-price tickets on Hot Tix!
A Christmas Carol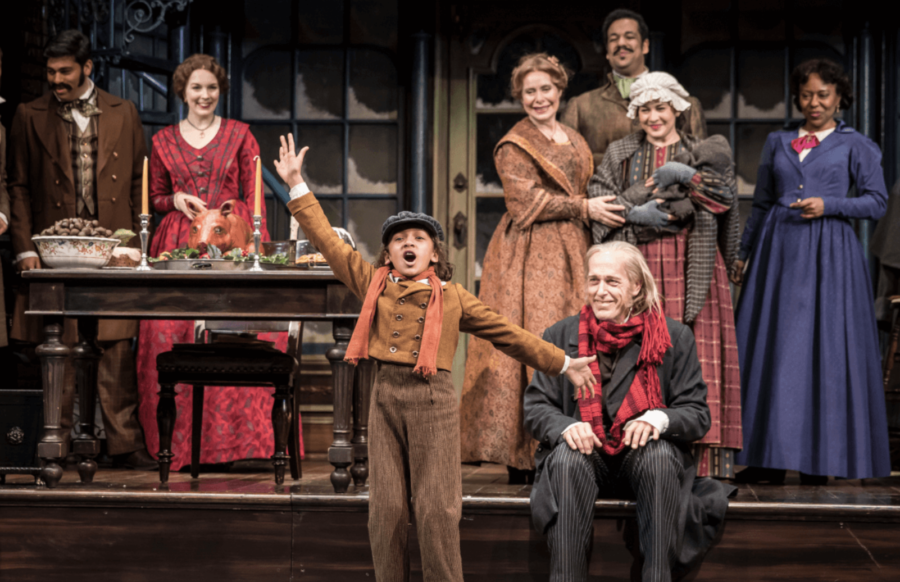 Drama
Goodman Theatre
Now playing – Dec. 31, 2021
Experience the heartwarming story of Ebenezer Scrooge's discovery of kindness, compassion, and redemption — a must-see Chicago holiday tradition now in its fifth decade at Goodman Theatre, enjoyed by nearly two million theatergoers. "Topnotch performances, spirited song-and-dance numbers" (Newcity), "amazing sets, gorgeous costumes and eye-popping effects" (Chicago Reader) bring to life "the best Christmas story ever told" (Time Out Chicago). Check for half-price tickets on Hot Tix!
Christmas Bingo: It's a Ho-Ho-Holy Night
Comedy
Nuns4Fun Entertainment at Greenhouse Theater Center
Nov. 26, 2021 – Jan. 2, 2022
Did Santa babysit the baby Jesus? Why were the Three Wise Men so lost? The answers to these and other humorous questions are answered in the hit holiday comedy Christmas Bingo: It's a Ho-Ho-Holy Night. Written by Vicki Quade, one of the creators of the hit comedy Late Nite Catechism, Christmas Bingo brings together two of the best things about being Catholic: Christmas and Bingo. Check for half-price tickets on Hot Tix!
Mr. Dickens' Hat
A Play with Music
Northlight Theatre at North Shore Center for the Performing Arts
Nov. 26, 2021 – Jan. 2, 2022
In a cozy Victorian shop sits the prized hat of Charles Dickens. When a pair of bumbling thieves plots to steal it, young Kit sets out to foil their plan, save the hat, and free her father from debtors' prison. Filled with a host of colorful characters, constables, and carolers, this warm winter's tale also features original music. Check for half-price tickets on Hot Tix! 
The Nutcracker
Dance
Joffrey Ballet at Lyric Opera House
Dec. 4 – 26, 2021
Christopher Wheeldon's reimagined classic returns for the holidays. Follow young Marie and the Nutcracker Prince on a Christmas Eve journey through the 1893 World's Fair, a dazzling spectacle of sights, sounds, and enchantment. This annual holiday tradition celebrates the magic of the season and the rich cultural heritage of Chicago. Check for half-price tickets on Hot Tix! 
Disney's Frozen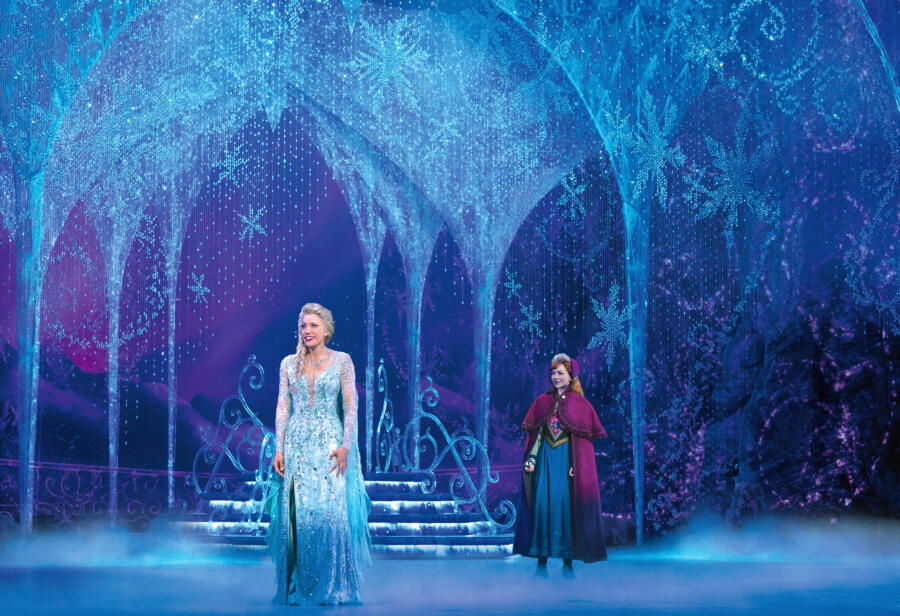 Musical
Broadway In Chicago at Cadillac Palace Theatre
Now playing – Jan. 22, 2022
From the producer of The Lion King and Aladdin, Frozen, the Tony-nominated Best Musical, is now on tour across North America. Heralded by The New Yorker as "thrilling" and "genuinely moving," Frozen features the songs you know and love from the original Oscar®-winning film, plus an expanded score with a dozen new numbers. An unforgettable theatrical experience filled with sensational special effects, stunning sets and costumes, and powerhouse performances. Check for half-price tickets on Hot Tix!
Teatro ZinZanni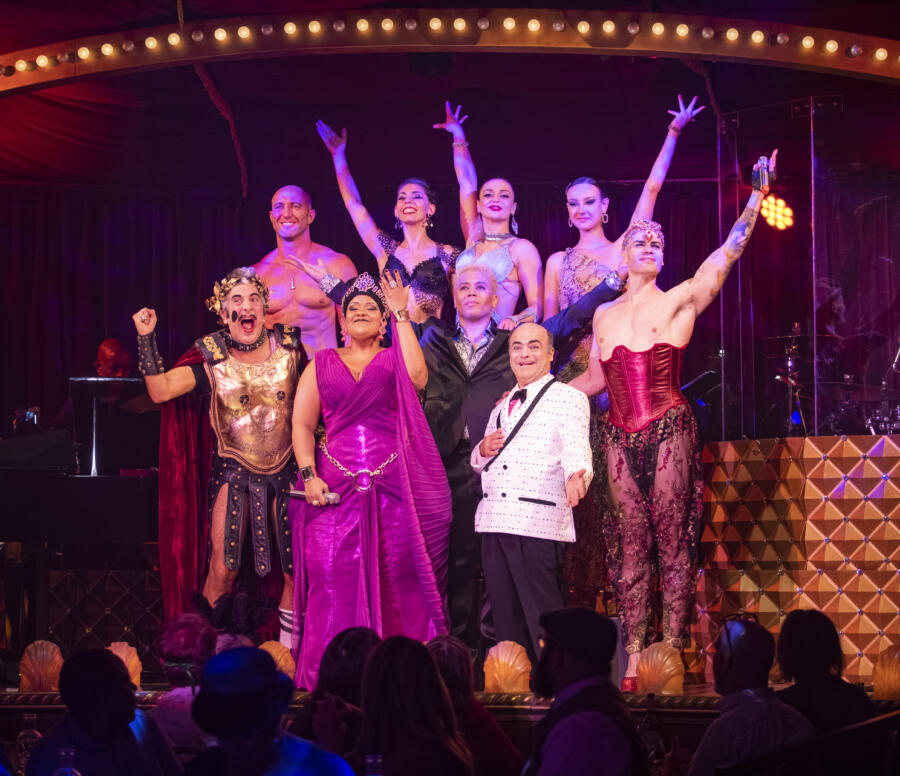 Circus
Spiegeltent ZaZou at Cambria Hotel
Open run
An experience unlike any other, Teatro ZinZanni is a whirlwind of international cirque, comedy and cabaret served with a multi-course feast. Described as the "dynamic, hilarious and delicious", the fast-paced action unfolds around, above and alongside our guests. World-class acrobats, musicians, divas, illusionists, madmen, and aerialists fill our intimate Spiegeltent ZaZou, a unique jewel box mirror tent located in the heart of Chicago's downtown theater district. Check for half-price tickets on Hot Tix!
Visit
ChicagoPlays.com
to find other exciting productions and classes online, and find insider guides to all things performing arts and the
Chicago theatre scene
.